There are times when all I want is a getaway with my guy or have a weekend away with the girls… then there are moments where I am badly in need of a little "me" time. When I find myself in such a place, I like to look for somewhere new to explore, refresh, unplug and hide.
There is nothing more liberating than ditching your daily routine to do what you want, when you want-without having to worry about boring anyone else or playing by their rules.
Being the history nerd that I am, I tend to find sanctuary in older locations that embrace their roots and a simpler lifestyle. On a recent solo trip, I was able to find all of the above and more at the Captain Fairfield Inn in Kennebunkport, Maine.
The Captain Fairfield Inn, one of many boutique style locations owned by Lark Hotels, has so many amazing things to offer its guests.
Here are five things that left a lasting impression on me during my stay…
 A Story to Tell…
Those who know me, know I love a good story rich in history and intrigue – Captain Fairfield didn't disappoint!
Following their marriage, newlyweds Captain James Fairfield and Lois Walker were given a plot of land in Kennebunkport as a wedding gift. It was on this land in 1813, that they built a Federal-style mansion, known today as the Captain Fairfield Inn.
Shortly after its completion, Captain Fairfield invited his sister Polly and her husband Joseph Lord to live with him and Lois. Since James and Joseph were both sea captains, they hoped their wives could keep each other company while they were away at sea for long periods of time.
The time apart between the women and their husbands was one I could relate to personally. Although I am not married, I have dated a man who lives in Australia for the last five years and it's hard to not find the distance unbearable at times.
Even still, I could not fully imagine what life was like for these ladies… having lived in a time without phones, video chat, text and email, all they could do is wait for a letter to arrive and pray for their husbands' safe return.
A Mix of Old & New…
The Captain Fairfield Inn has a mix of new and old elements that really give it its own unique vibe. The rooms, decorated in both new and old furniture, were covered in pops of bold, modern colors and eye-catching patterns.
What really made me fall in love with the inn though, were the unexpected surprises.
On a tour of the property, the original pine floors and decorative trim caught my attention immediately. I don't think I could have smiled any wider when the floorboards began to creak beneath my feet!
The second nerdy smile involved the music playing throughout the first floor. Sinatra, Dean Martin, Ella Fitzgerald, Jimmy Durante, Louis Armstrong… all musicians I love listening to when I'm badly in need of a chill out.
The final goofy grin came just as I was getting ready for bed… while lowering the blinds in my room, I noticed the windows were the old weight and pulley system style. Mentally, they brought me right back to one of my best childhood memories- living in my great grandmother's old house.
Although I do enjoy inns that are furnished with antique and vintage pieces, I sometimes find them hard to fully relax in out of fear of breaking something. With Captain Fairfield's mix of old and new, you trade the stuffy museum feel for a location that feels more like a cozy home away from home.
A Few of My Favorite Things…
Adding to the home away from home feel were the amenities.
How many locations hand you an ipad on arrival to use for the duration of your stay? The Captain Fairfield Inn was a first for me. The ipad was loaded with apps that helped familiarize me with Kennebunkport, the inn and gave me the opportunity to browse other Lark Hotels' locations.
Breakfast was fantastic and consisted of freshly made, small plates that you could mix and match. This was no "one boring plate serves all" scenario. From lemon-ginger scones, sea salt & cracked pepper biscuits and sweet breads to coconut and currant oatmeal, caprese baked eggs with basil and tomato, and a berry granola salad… breakfast was worth getting up for.
Then there was the coffee station and wine nook located just off the dinning room.
After 3pm, all I could smell throughout the first floor were the freshly baked cookies waiting to be devoured in the coffee station… and devour, I did.
In the adjacent wine nook, there was a fridge full of complimentary sodas and a counter full of freshly made pastries.
Wine and beer were available for purchase, but the thing I loved most about it was that it was all accounted for by honor system. Grab your beverage(s) of choice, then write your name, room number, date and quantity on a sheet fixed to the refrigerator door.
Trust & honesty… Two things there aren't enough of these days.
Helping myself to a couple of cookies and a glass of red, I ended each night at the Captain Fairfield in front of a fireplace in the privacy of my own room.
I couldn't think of a better way to end a long day!
Out and About…
Location. Location. Location.
Tucked away on a quiet street, the inn was barely a five-minute walk from the center of town. I literally parked my car at the inn and there it sat for my entire stay.
I spent my days bouncing from art gallery to art gallery and popping into just about every boutique Kennebunkport had to offer. When it came to great food, there was no shortage.
While Maine is known worldwide for its lobst-ah… I am known locally for my sweet tooth. So, of course two stops were of the sugary variety. From pigging out on dark chocolate and salted caramel ice cream at Rococo's to watching the world go by with a hot chocolate and pastry at Mornings in Paris… my cavities were in heaven.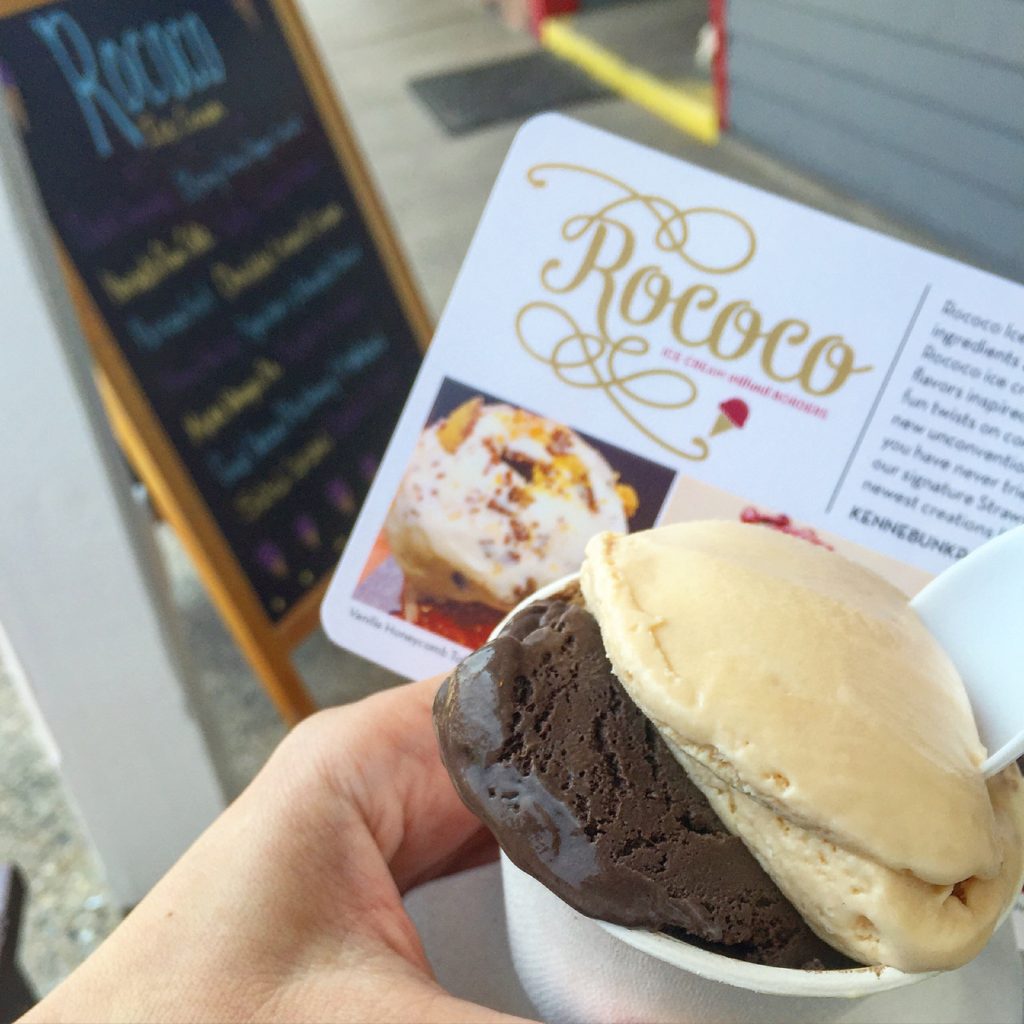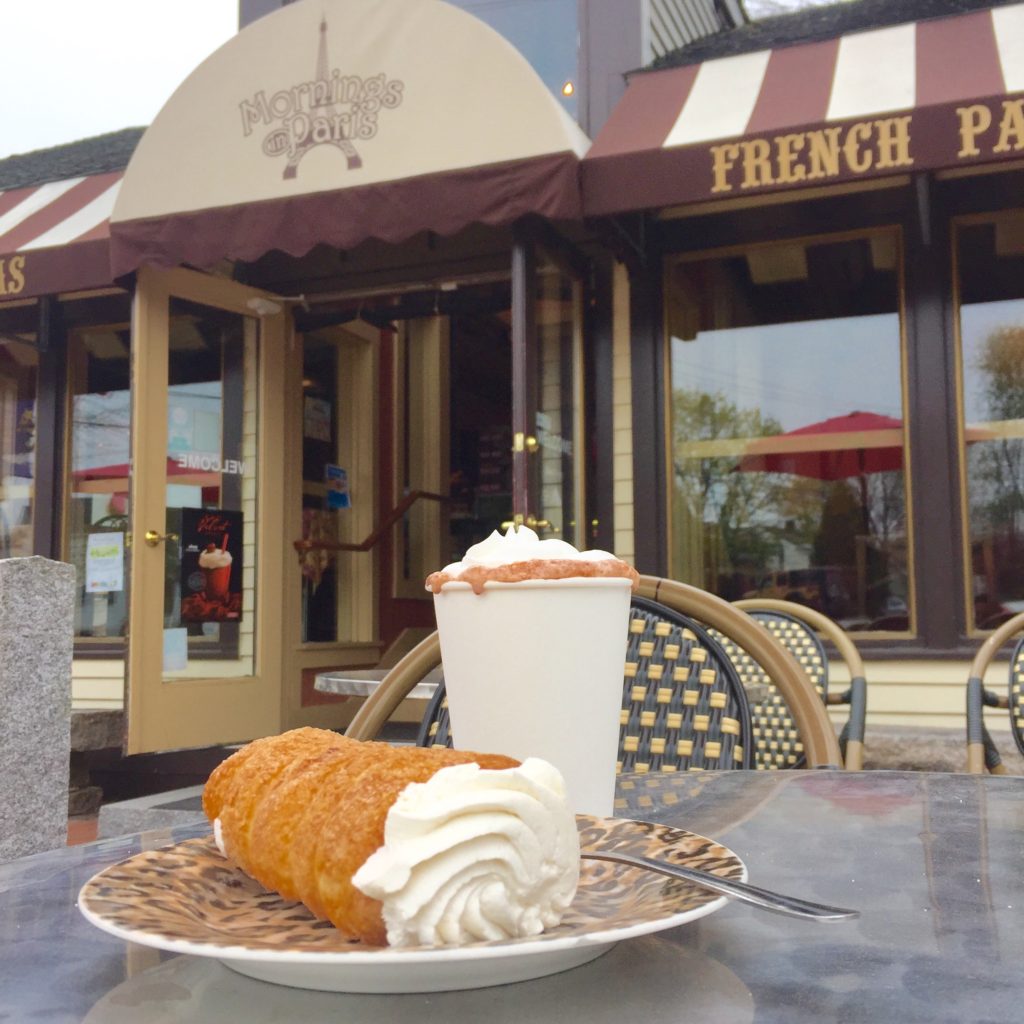 Since leaving Maine without having some form of seafood would be the sin of all sins, I decided to splurge on a dinner at Hurricane.
Table for one please!
A candle lit table over looking the water as the sun set… bread paired with a seasoned oil, a wedge salad and a glass of red to start. The main, baked haddock paired with mushroom risotto… What more could a girl ask for?
Besides the company of her handsome Aussie… of course!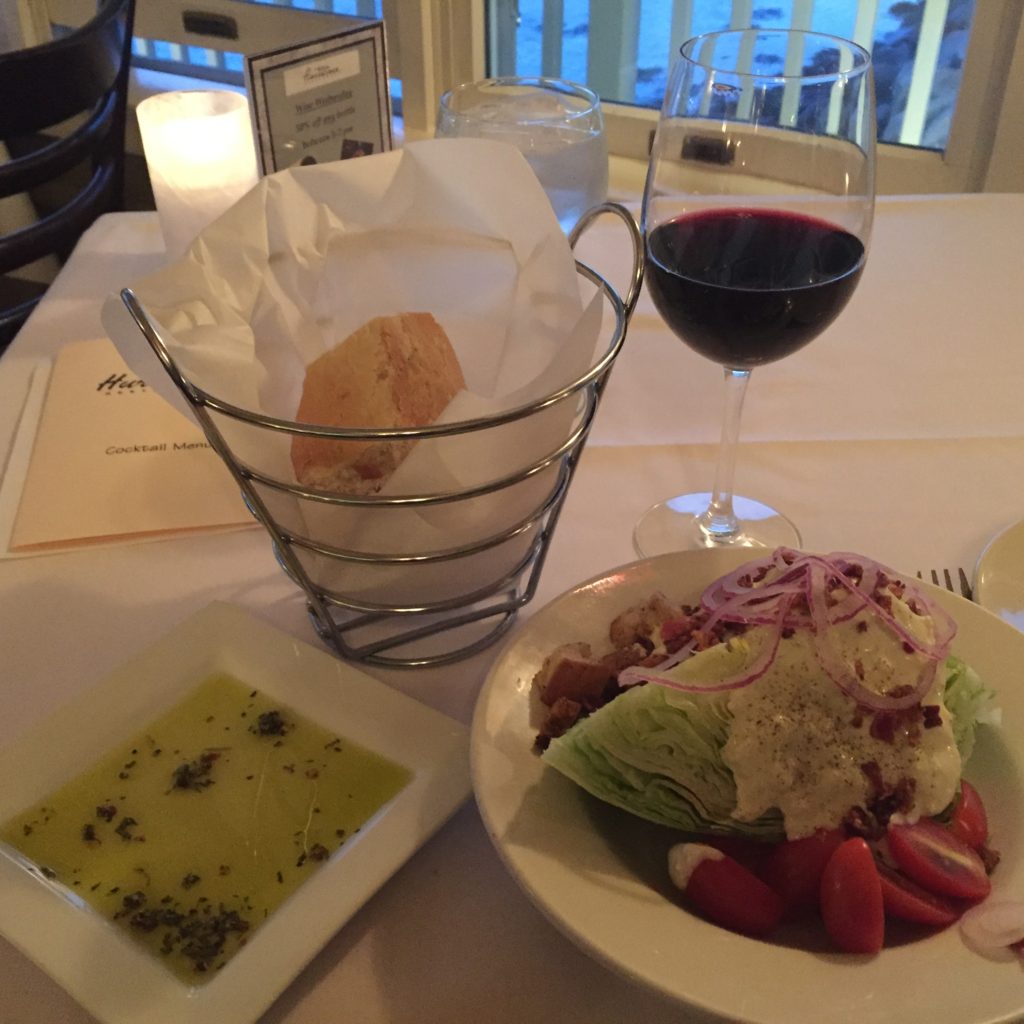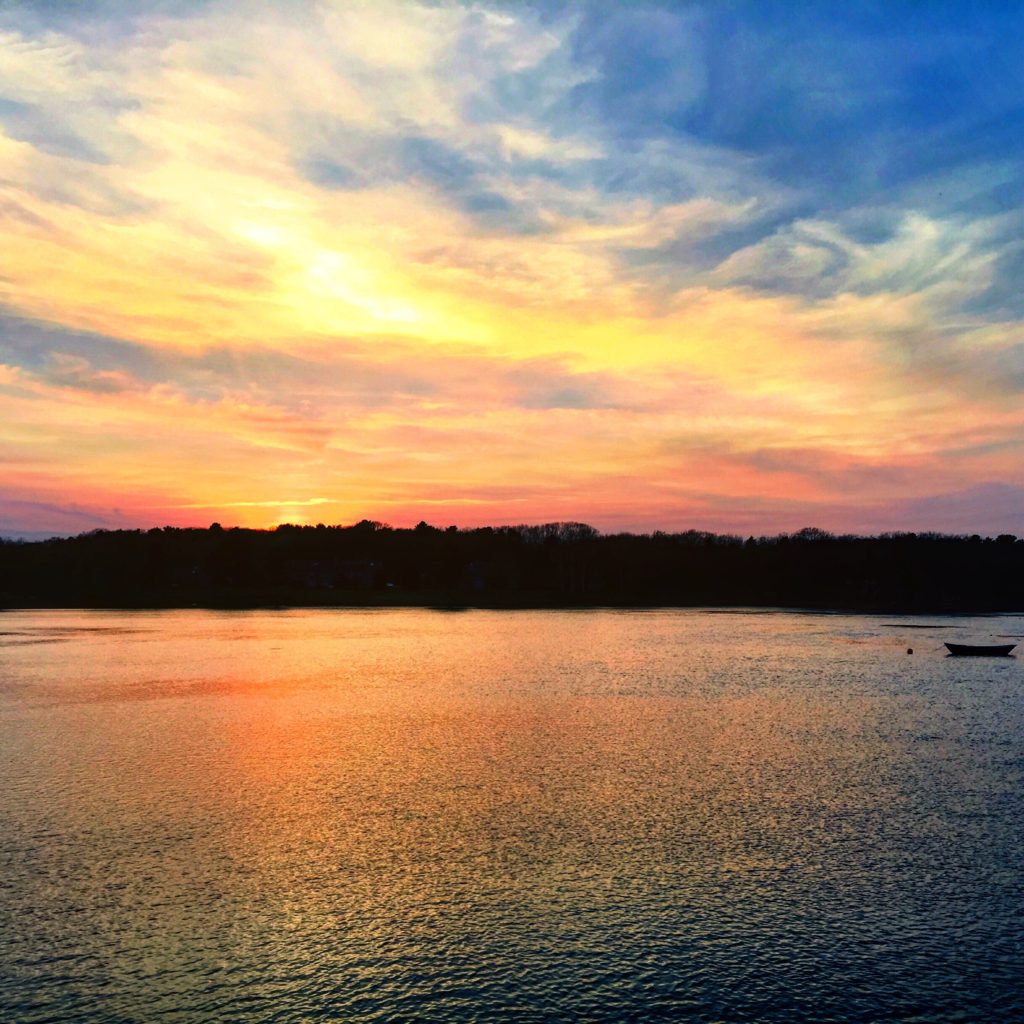 Breaking Misconceptions…
As a New Englander (born and raised), the area has played a big part in making me who I am.
It is my heart.
Having said that, it is funny how you can live in an area your whole life and not really know it. To me, and many others, Kennebunkport is the Bush family compound-a presidential hideaway. It is a well-known, picturesque town with old money.
With money, comes the expectation of snootiness.
…How wrong was I.
I cannot tell you how many genuine conversations I got into with locals, especially shopkeepers or fellow restaurant patrons a table over. And it wasn't the forced conversation for the sake of conversation either, which is my least favorite thing in the world.
People actually acknowledged each other.
They stopped what they were doing to say hello, to ask how you're doing or to crack a joke. People's faces weren't buried in a phone or avoiding eye contact… they were relaxed and welcomed interaction. Taking in the beachy, seaside setting, their laid back nature was contagious.
I honestly felt like I was on another planet, one much friendlier than I am used to.
When it comes to escaping your normal day to day for a little time away… there are times when you just need a place to drop your bags and then there are times you want a place that will enhance your overall experience.
The Captain Fairfield Inn is a special place where history meets the modern world, allowing guests to step back into simpler times while giving them the ability to stay connected.
I couldn't have found a better place to hide while not really hiding at all. Hidden-in-plain-sight, The Captain Fairfield Inn gave me a chance to get away from the day-to-day stress and minutia to explore the history and culture of a unique seaside town.