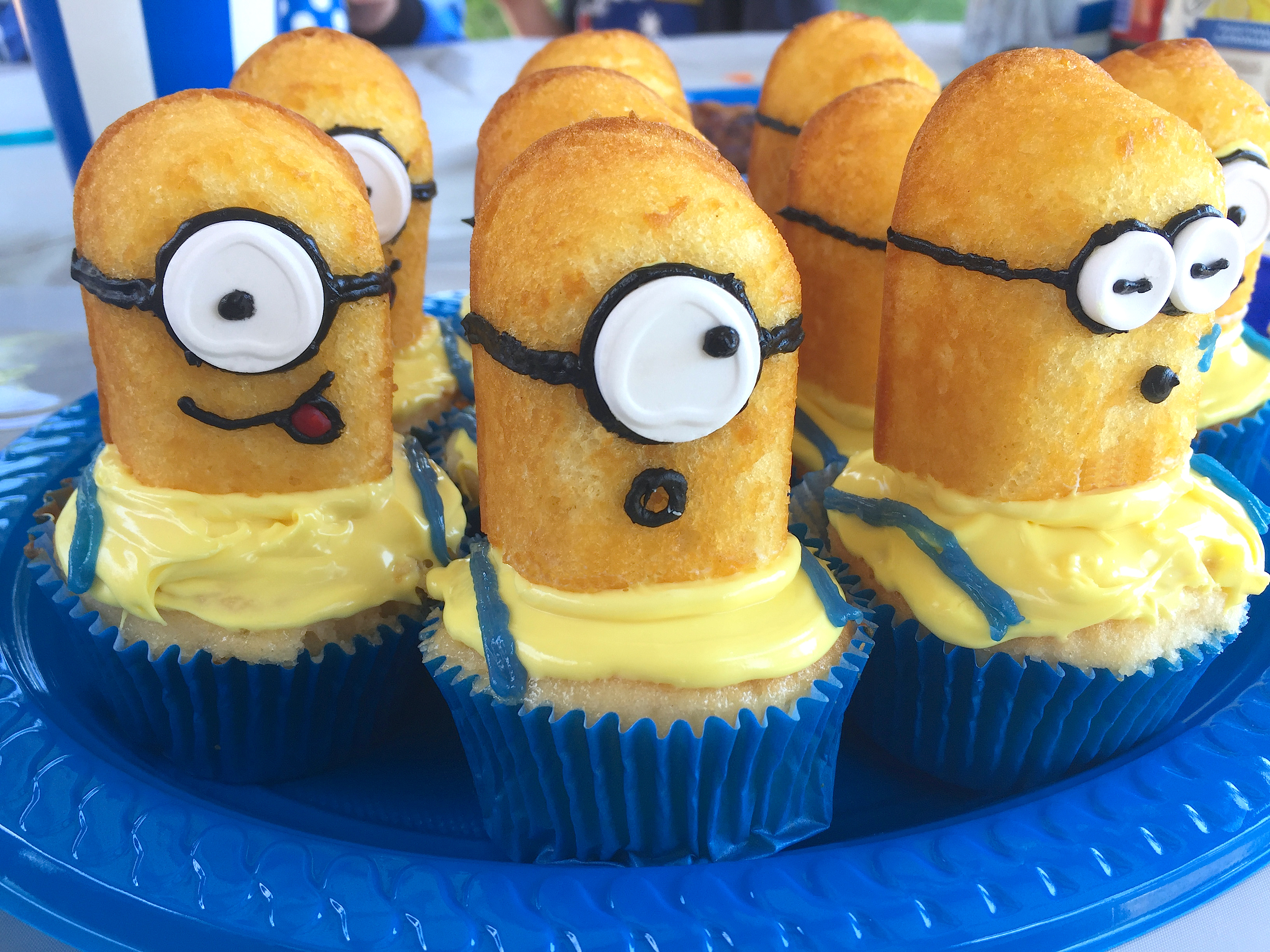 I love baking, so when my favorite little minion turned six, I was quick to pull out a fun cupcake idea I had tucked away months earlier. Where I found it, I have no idea… it was posted online somewhere – Facebook? Pintrest? Instagram?
Who knows – It was just too cute to not save and try.
Overall, they were pretty easy to make. The biggest drama I had was – of all things – finding Twinkies in Australia. My poor guy, after trying several places with no luck, I sent him out to one shop that sold them individually. $30 it cost him… for one box!!!
They are what? $4 to $5 dollars a box in the U.S.A.? Flippin' crazy.
Anyway, I don't think I've ever wanted Twinkies that badly…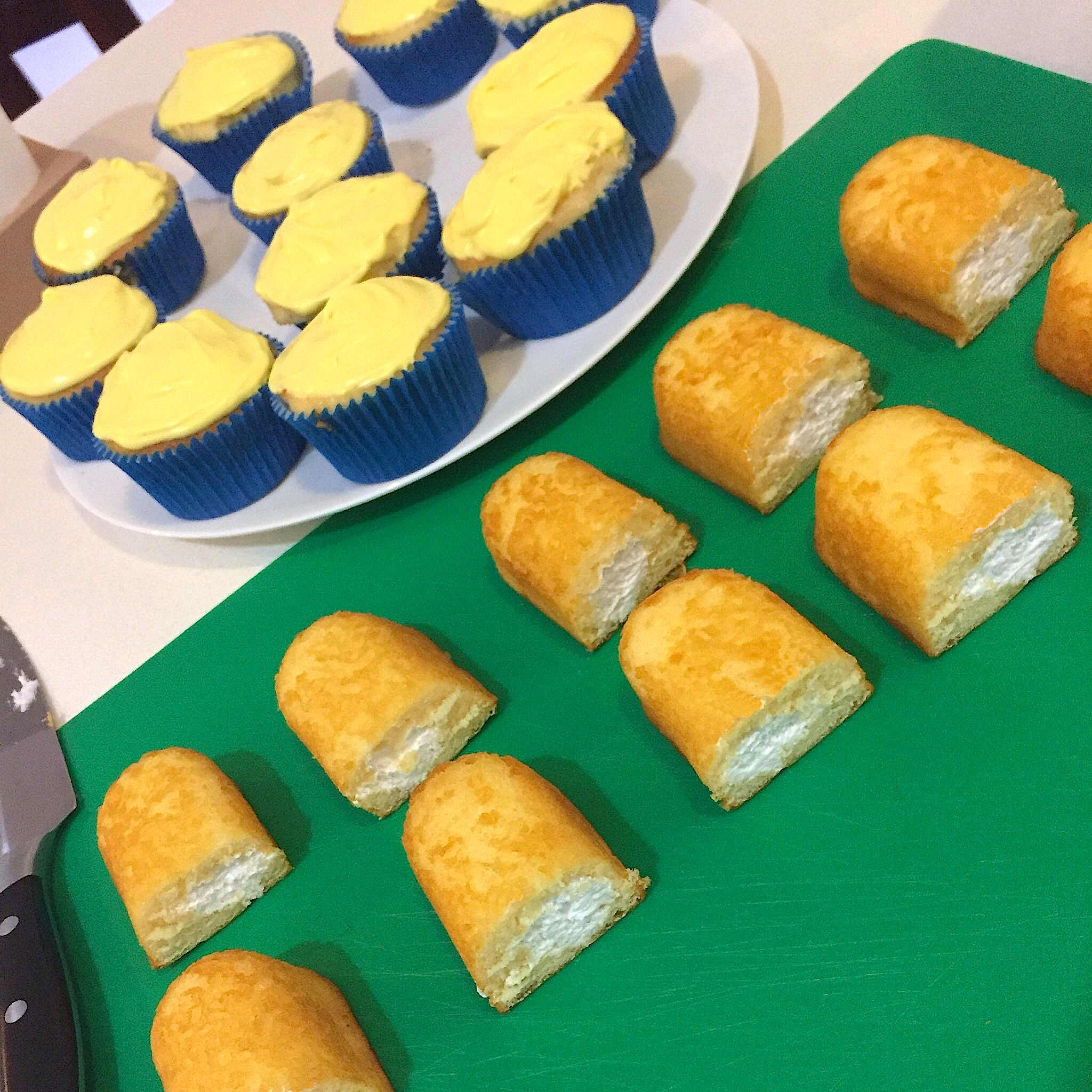 Beyond the insanely expensive Twinkies, I bought a few other things:
Vanilla Cupcake Mix (Normally I make cakes from scratch but due to lack of time – box mix it was!)
White Frosting
Food Coloring (to turn white frosting yellow)
Blue Cupcake Liners
Smarties (or Rockets as they call them in Australia)
Large Smarties (or Rockets)
Blue Tubed Hardening Writing Icing (Used for overalls)
Black Tubed Hardening Writing Icing (Used for facial details)
Red Tubed Hardening Writing Icing (Used to color in tongues)
Following the directions on the boxed cupcake mix the night before, I placed the blue cupcake liners in the cupcake tray – filled them with batter and popped them in the oven. Once fully baked, I let them cool then placed them on a plate and covered them with plastic wrap for the night.
I did stray from the original photo I had gotten this idea from by going with only blue cupcake liners. Minions wear blue overalls… being a bit OCD when it comes to anything artsy… my damn minions weren't about to have pink, poka dotted bottoms.
Besides – let's be honest – nothing gets by kids! I'm sure, had I used anything but blue I would have been lectured on proper minion attire for half the party.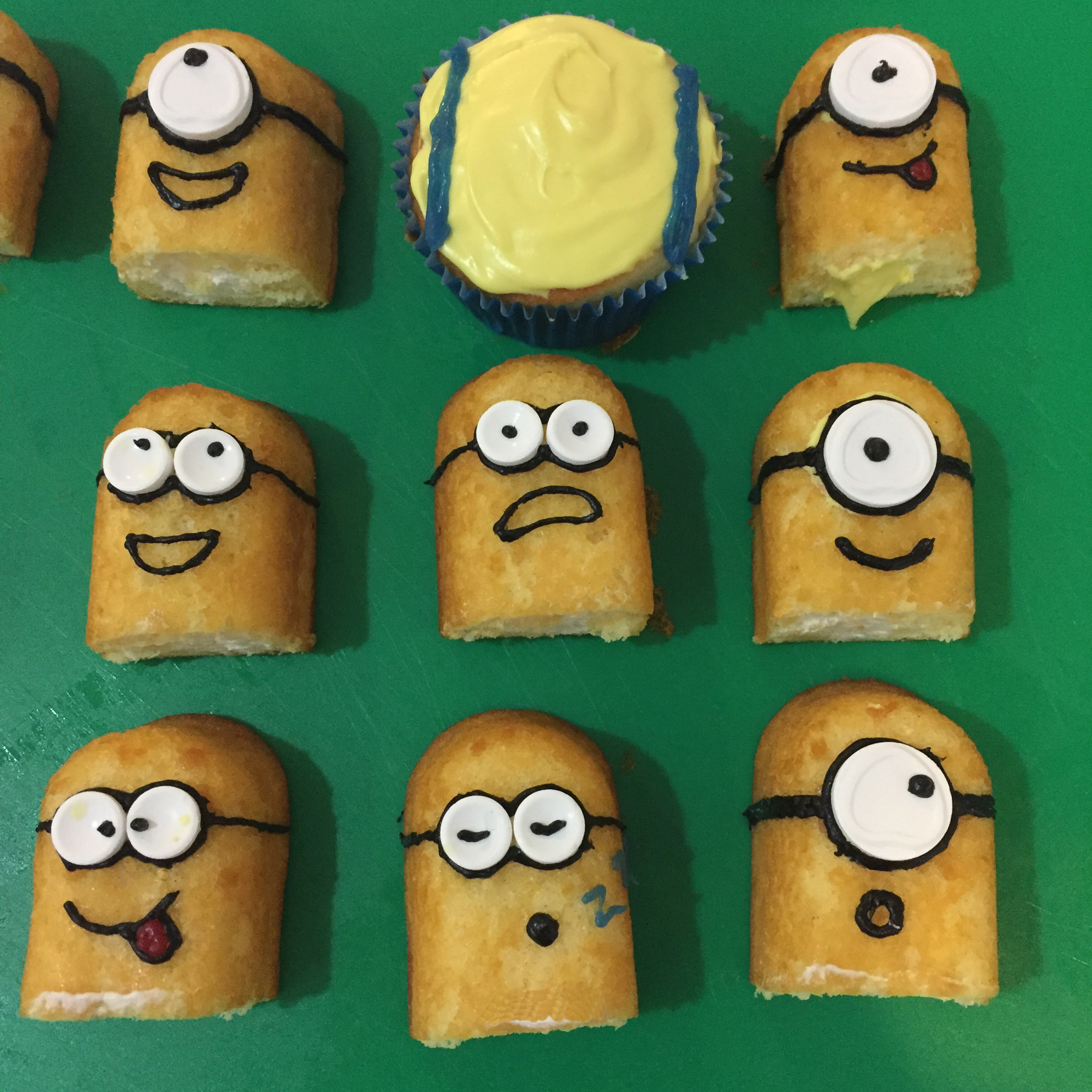 The next morning, I mixed some yellow food coloring into my white frosting until I got a color I was happy with and covered the tops of the cupcakes. Once all covered, I let them set for a bit while I cut the Twinkies in half.
For every one Twinkie, you get two minion heads.
Returning to the cupcakes, I used the Twinkies to get the right spacing for the overall straps then used the blue writing icing to draw them on.
From there, I moved to the faces using a dot of yellow icing to stick the Smartie eyeballs in place then outlined them with the black writing icing (further securing them) – adding the goggle band, eyes, mouths and other facial details.
With the faces, I strayed from the original photo idea again…
The photo that originally gave me the idea, had the same face for every minion – where's the fun in that?!
Instead of a bunch of two eyed, smiling minions – I made one and two eyed minions, some smiling, some sleeping, some sticking out their tongues, some yelling and others surprised. Using the red writing icing, I colored in the tongues that hung out and added blue Z's to the one who was sleeping.
If you're going to make them – have fun with it! Why make them all the same?
Just keep it PG if its a kids party.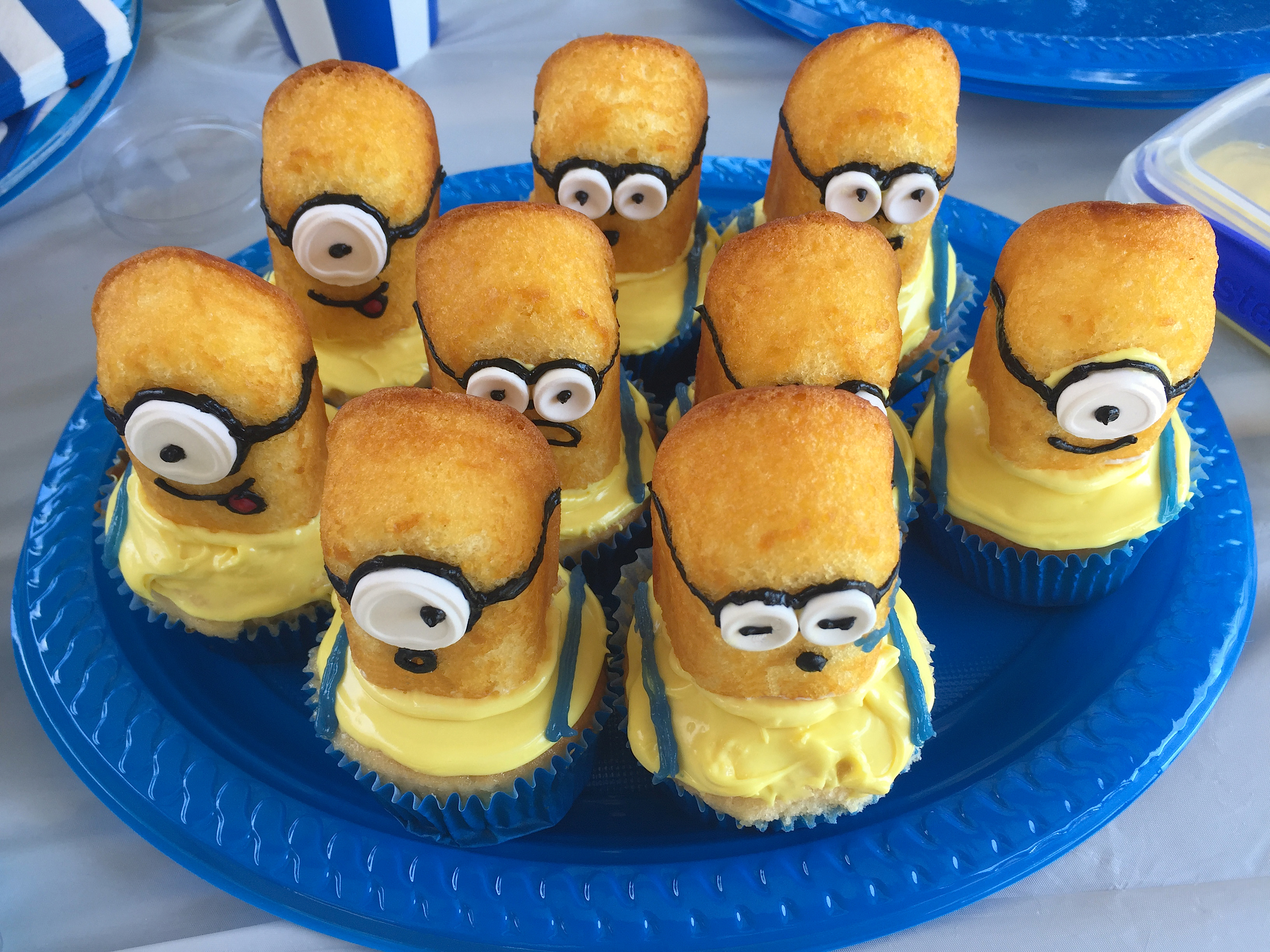 Helpful Tip: Thanks to the suggestion of a lovely lady on Twitter, I did not assemble the minions until I got to the party. Using containers, I transported the cupcakes in one and the minion heads in another (keeping them cool in a cooler or "eskie" as the Aussies say). I didn't have a problem with the eyeball smarties sliding off but depending on the frosting and writing icing you use, they could easily be a problem. Leaving the heads cool and laying flat will help avoid this.
Once we got to the park, I assembled the heads and cupcakes. To help secure the minion heads, I brought some extra yellow frosting in a small container and applied it to the bottoms – lightly pressing them in place on top of the cupcakes.
It only took a couple of seconds to assemble – totally worth avoiding runaway eyes!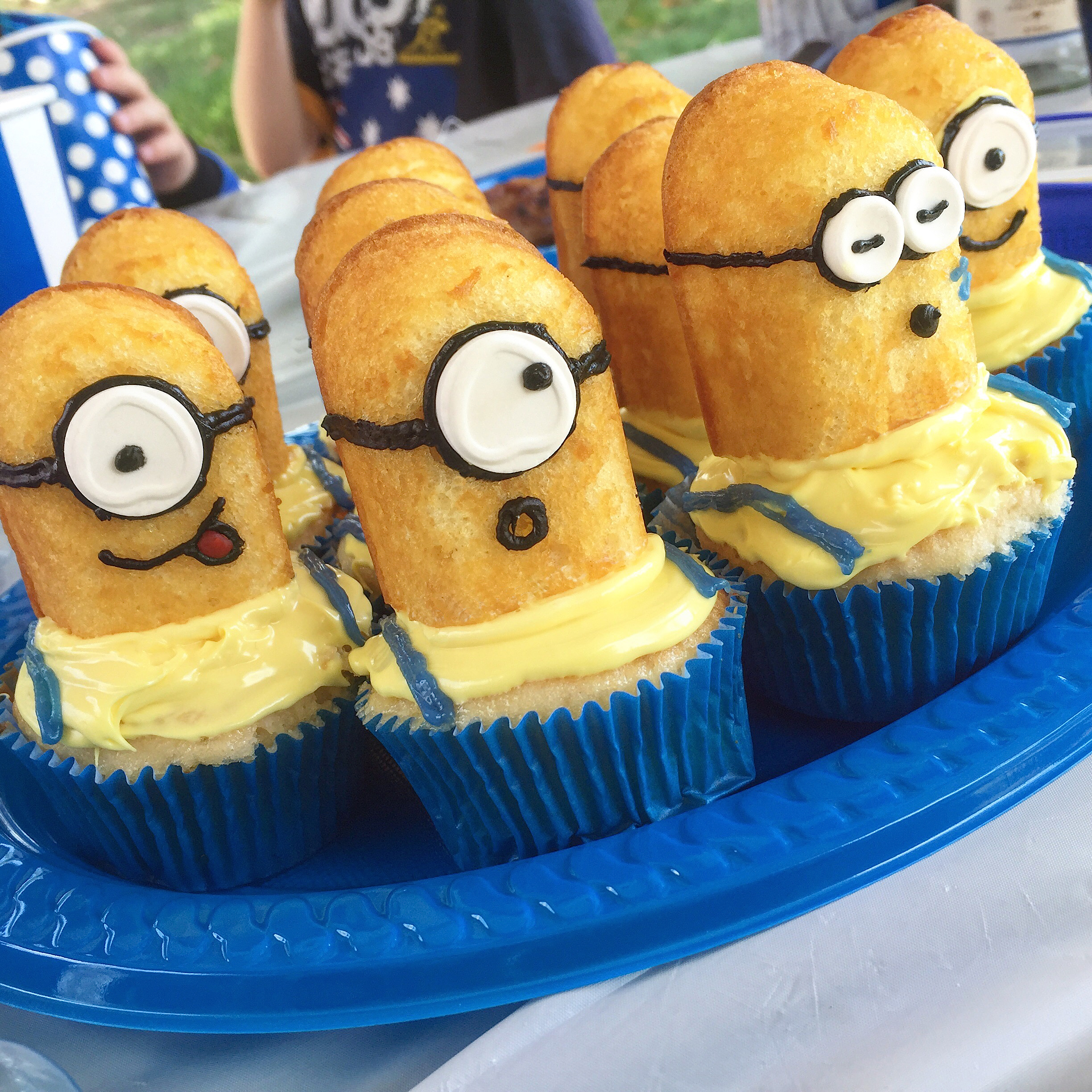 In the end, the kids loved them and got a kick out of picking out which minion they wanted by its facial expression.
Being Australian little ones… they were all a bit confused by Twinkies. It was funny watching them take a few bites, trying to decide if they liked them or not. For those who weren't a fan, they still had the vanilla cupcake to destroy.
Outside of zombies movie, does anyone actually like Twinkies???
After 36 years, this American has finally found a good use for them thanks to the good ol' internet. Overall it was a relatively easy, fun and creative alternative to the standard birthday cake.
I would definitely recommend giving them a go if you have a little one who's crazy for minions!